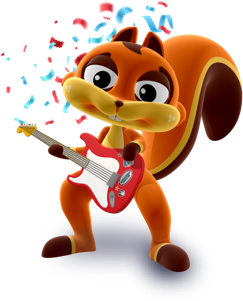 Birthday clip submissions – December onwards
Enter our monthly promotion for the chance to air your child's clip on BabyTV.
Surprise your child with a BabyTV Birthday Clip and BabyTV Studio clip and watch your child sing and dance with BabyTV characters on-screen! 
Submissions must be received a minimum of 8 weeks before your child's birthday Month.
Please note that we cannot guarantee that a clip will air on TV
Please note that by submitting your child's photo to BabyTV Birthday Clip, it may be randomly selected to participate in one of BabyTV's studio clips.
Our team will contact you if your entry is chosen, if you have not heard from us within 2 weeks, your submission was not successful. 
Please review our terms & conditions below.
BabyTV Clip Terms & Conditions
How to submit
Please email us at Clip@babytvchannel.com with all of the following;
• High-resolution HD image of your child's face and head.
• The child must be facing the camera straight on (no blurry images) must not have a pacifier/dummy, hat, earphones, toys or any other items that obstruct the full face (One child per image) 
• JPEG Photo minimum size (1 MB) must be attached to email.


Unfortunately, BabyTV will not be able to provide follow ups on the status of your entry.